Tickets are now available for CREW TIPS: Teen-Led Training on How to Attract and Welcome Young Visitors…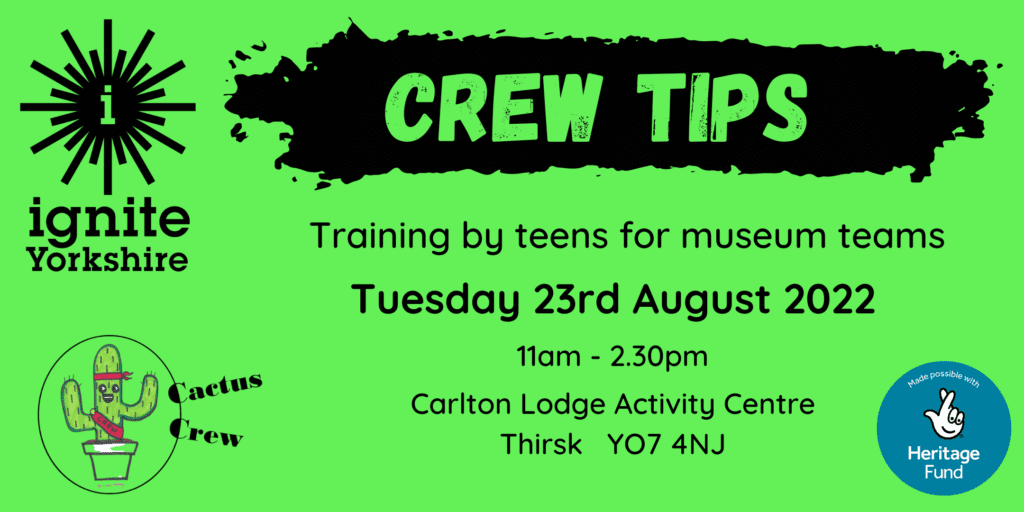 Do you want to hear from young people about what would really attract them to your museum or heritage site? Are you up for the tables being turned and learning from teens?
FREE half day training course led by teens from Cactus Crew. Lunch provided and we promise something very different indeed.
Cactus Crew are a teen collective who have been working with heritage organisations and sites for the last 4 years facilitated by Sponge Tree as part of Ignite Yorkshire
Having been asked repeatedly for their ideas and insights 'into what teenagers want', they set up The Spikey Truth so that they could be paid to give reviews and advise venues on their offer to teens. Their clients include Landmark Trust, Science and Media Museum, Natural History Museum, National Coal Mining Museum for England .
This session has developed from this work. Cactus Crew want to explore what teenagers want to see and are interested in and to discuss the misconceptions adults can have about 'teenagers'. This includes how they are seen, expectations put on them and how they feel when they visit heritage sites unaccompanied by an adult. They want this session to be enjoyable and a chance to talk openly and honestly with attendees so that they can help create a welcome space for other teenagers in more heritage sites and museums.
This is great free training for:
Teams at arts, culture and heritage venues wanting to attract young people as part of a diverse visitor offer.
Organisations and practitioners interested in youth voice and co-creating work and projects with young people.
Practitioners interested in working on projects with young people.
Front of house staff at sites wishing to authentically welcome young people.
This training will take place in person and we are not able to offer online participation on this occasion.
Located less than half a mile from Thirsk Railway station, the venue is a wheelchair-accessible, ground floor space at Carlton Lodge Activity Centre, home of Ignite Yorkshire partner, North Yorkshire Youth.
Photo by JMA Photography